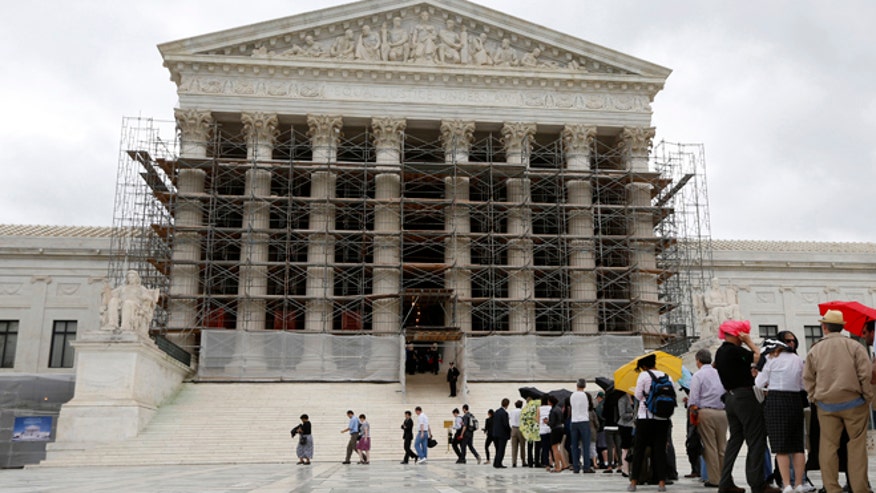 A federal judge says it's time to tell Congress to "go to hell" for allowing the partial government shutdown and other recent actions that have significantly cut court funding.
"It's the right thing to do," said senior U.S. District Judge Richard Kopf in a recent blog posting. The blog exposed some long-simmering tensions between the two branches of government over recent budget decisions. 
Kopf, a Bush administration appointee in Lincoln, Neb., says Congress has hit federal courts with a one-two punch — allowing the deep, inflexible cuts known as sequester to kick in this spring, then failing to agree on a spending bill to stop the government from partially shutting down some government services.
The partial shutdown has forced the courts to furlough non-essential employees and use court fees and other sources of income to help keep things running. 
A non-partisan congressional report published prior to the Oct. 1 partial shutdown projected those accounts would be exhausted in about 10 days, at which time only "essential work" by furlough-exempt judges, core staff and probation and parole officers could continue under federal law. 
Kopf is now urging a confrontation with the Legislative Branch, calling on his fellow members of the bench to declare all employees exempt from furlough. 
"Given the loss of employees already suffered by the judiciary on account of the sequester and otherwise, why shouldn't every remaining employee of every federal district court … be declared 'essential?'" argues Kopf, who thinks federal public defenders also should be protected.
Kopf raises the stakes by saying such a declaration could force Congress to back down, thus stripping members of their ability to "destroy the judiciary by failing to pass a budget."
Or members could go "bat-sh-t," so the two branches "could have it out," he said.
Government documents show that under sequester, funding for federal courts was 5 percent less than in fiscal 2012, which means final appropriations for the judiciary this fiscal year was about $350 million less.
To fund increases for "must-pay expenses" such as judges' compensation and rent, spending for individual courts had to be cut by 10 percent, compared with fiscal 2012 levels, which resulted in roughly 1,000 fewer employees in offices for probation, pre-trial services and clerks of court, the Honorable John D. Bates, director of the Administrative Office of the United States Courts, wrote last month.
One federal judge has already appeared to push back, suggesting to the Republican-led House that its self-imposed partial shutdown will slow its legal effort to get Attorney General Eric Holder to turn over records related to the Obama administration's failed Operation Fast and Furious gun-tracking program.
"There are no exigent circumstances in this case that would justify an order of the Court forcing furloughed attorneys to return to their desks," wrote Judge Amy Berman Jackson, according to Politico. "Moreover, while the vast majority of litigants who now must endure a delay in the progress of their matters do so due to circumstances beyond their control, that cannot be said of the House of Representatives, which has played a role in the shutdown."  
Source Article from http://feeds.foxnews.com/~r/foxnews/politics/~3/FH7ZV9oc4aI/
Judge tells Congress 'go to hell,' urges confrontation over furloughs
http://feeds.foxnews.com/~r/foxnews/politics/~3/FH7ZV9oc4aI/
http://feeds.foxnews.com/foxnews/politics
FOXNews.com
FOX News Network – We Report. You Decide.