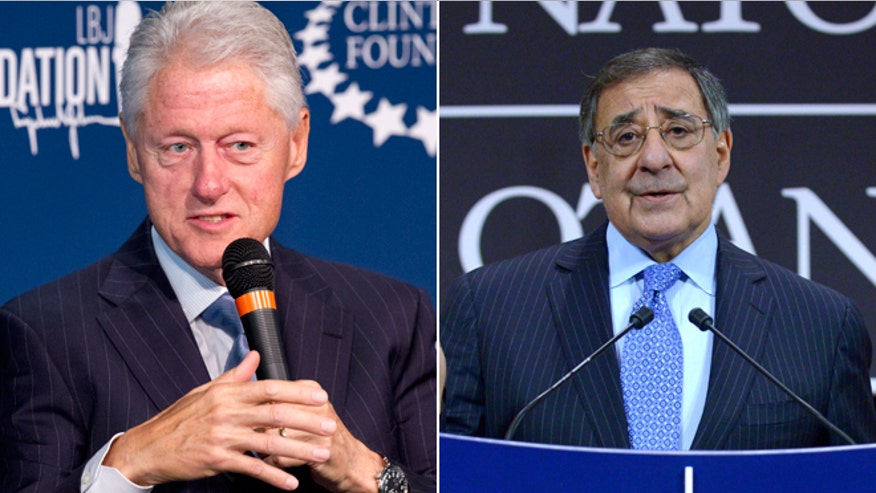 **Want FOX News First in your inbox every day? Sign up here.**
Buzz Cut:
• Bubba, Panetta dump on Obama
• 'Free birth control? Really? That's all you've got?'
• Power Play: Obamaland upset?
• Pick Six: Alaska makes big gains, but still frozen out
• Officer in head-on collision with cliché
BUBBA, PANETTA DUMP ON OBAMA
The effort by Hillary Clinton and her team to pin blame exclusively on President Obama for the rise of a huge Islamist army in Iraq and Syria kicked into high gear this weekend. Obama heads to New York this week to try to piece together some kind of coalition to fight ISIS but honor some version of his promises to his base about the conflict. Even if it means teaming up with Iran. In the midst of the dire chapter for Obama's foreign policy, we hear from former President Bill Clinton, who told CNN, "I supported two years ago the proposal that Hillary and Secretary Panetta and then CIA director, General Petraeus, made to give more robust armed support to the Syrians." The former president told CNN that "it was an argument she lost within the administration." Panetta, a longtime Clinton insider, made clear that he was ready to burn Obama in an interview with 60 Minutes," saying, "And I think in part, we pay the price for not doing that in what we see happening with ISIS."
[Where we started – The effort to single out Obama for blame began with the 2016 Democratic frontrunner herself, starting with her memoir and an interview with The Atlantic.]
Dear Saul – Washington Free Beacon: "Previously unpublished correspondence between 2016 Democratic frontrunner Hillary Clinton and the late left-wing organizer Saul Alinsky reveal new details about her relationship with the controversial Chicago activist and shed light on her early ideological development. Clinton met with Alinsky several times in 1968 while writing a Wellesley college thesis about his theory of community organizing…The letters also suggest that Alinsky, who died in 1972, had a deeper influence on Clinton's early political views than previously known… Clinton devoted just one paragraph in her memoir Living History to Alinsky, writing that she rejected a job offer from him in 1969 in favor of going to law school. She wrote that she wanted to follow a more conventional path. However, in the 1971 letter, Clinton assured Alinsky that she had 'survived law school, slightly bruised, with my belief in and zest for organizing intact.'…The letters obtained by the Free Beacon suggest that Clinton experimented more with radical politics during her law school years than she has publicly acknowledged."
[The letters between Clinton and Alinsky can be read here.]
Hello New Hampshire – New Hampshire Journal: "2016 Democratic frontrunner Hillary Clinton will host a fundraiser in Washington on September 30 for long-time friend and New Hampshire state Sen. Lou D'Allesandro. Clinton has a long history with the Granite State dating back to former President Bill Clinton's first run in 1992 up to her own win in the first-in-the-nation primary in 2008. Despite a strong presence in the state by the Ready for Hillary political action committee since early this year, she has yet to make an in state visit this election cycle."
[Busy Bee: Also on September 30, Hillary will keynote an event for the Congressional Hispanic Caucus Institute and appear at a fundraiser for Maryland Democratic Governor candidate Anthony Brown.]
Bet he just loved that one – "I think she's an important part of it. And I think the American people are – the Democrats, at least – are worried about people having an equal shot at prosperity." – Former President Bill Clinton when asked by CNN whether Massachusetts Sen. Elizabeth Warren was "the future" of the Democratic Party.
PAUL IN SILICON VALLEY
San Fran Chronicle: "Signaling that he may be edging closer to a 2016 White House run, Republican Sen. Rand Paul, R-Ky., said he plans to open an office in the San Francisco Bay Area, one of the nation's strongest Democratic bastions – and a convenient link to Silicon Valley. Though there is no specific date, 'we're in the process of it,' Paul said in an interview with The Chronicle…Paul said he expects to come to the region 'fairly often,' and the area makes plenty of sense for a base, 'There's a lot of smart people in Silicon Valley, and we want to use their brains to figure out how to win.'"
[Watch Fox: Sen. Rob Portman, R-Ohio, appear in the 1 p.m. ET hour]
EXECUTIVE ACTION STRATEGY SESSION?
President Obama meets today with Treasury Secretary Jack Lew, who is holding out hope for at least one part of the administration's derailed "Year of Action" midterm election plan. Lew promises that he will "very, very soon" be announcing his effort to punish companies that move their headquarters overseas to avoid high U.S. corporate tax rates.
GLOBAL WARMING SNUB
Though Sunday's climate change march in New York drew big numbers, the leaders of some of the world's most important players will apparently skip the real work: a high-profile summit hosted by UN Secretary General Ban Ki Moon on Tuesday. While President Obama is slated to attend, the leaders of China and India have scheduling conflicts. WaPo:  "[T]he two countries are not only the first and second most populous countries on Earth; research shows they also were the first- and third-biggest producers of carbon dioxide emissions (the United States holds the No. 2 spot). That figure can only partly be explained away by their huge populations: One study showed that per capita emissions from China recently surpassed that of the European Union, and India is predicted to follow suit in five years…Russia is the 10th-most-populous country in the world and the fourth-largest producers of carbon dioxide emissions, yet PresidentVladimir Putin won't be in attendance…"
WITH YOUR SECOND CUP OF COFFEE…
Men on Mars? Maybe so as the MAVEN spacecraft successfully entered Martian atmosphere following a 442 million kilometer journey over the last 10 months. According to NASA, "…MAVEN will begin gathering detailed data on Mars' atmosphere with a specific eye toward explaining what caused water in Mars' atmosphere to be lost to space over the billions of years of the planet's evolution." Meanwhile back here on Earth, Dutch ecologist Wieger Wamelink is making his own out-of-this-world discoveries. With replicated Martian soil, Wamelink studies what plants might grow in greenhouses on other planets. After monitoring his plants for months, he saw a small glimmer of hope with a sprout of a mustard plant in one of his 840 pots. Though Wamelink shows evidence of plant growth on other planets, the effect of humans eating the Martian plants remains to be seen.
Got a TIP from the RIGHT or LEFT? Email FoxNewsFirst@FOXNEWS.COM
POLL CHECK
Real Clear Politics Averages
Obama Job Approval: Approve – 41.3 percent//Disapprove – 53.7 percent
Direction of Country: Right Direction – 27.4 percent//Wrong Track – 64.6 percent
Generic Congressional Ballot:  Democrats – 42.7 percent// Republicans – 46.2 percent
— 43 days until Nov. 4 —
'FREE BIRTH CONTROL? REALLY? THAT'S ALL YOU'VE GOT?'
Edgy, arresting and risky, the latest ad from Americans for Shared Prosperity suggests that female voters have fallen out of love with President Obama and America should dump Democrats this fall. The woman in the ad says, "…his online profile made him seem so perfect, smart, handsome, charming, articulate, all the right values, I trusted him…He told me we'd be safe — have you looked at the news? He's in my emails and text messages, spying on me but ignoring real threats." The conservative advocacy group also ran this ad during the Sunday morning talk shows. Aimed to push back on the war on women and show they care about more than just gender issues, the woman in the ad goes on to say, "…free birth control? Really that's all you've got? I'm smart enough to care about real issues, the economy, jobs, education, and now our security, but trying to distract me with this war on women, if you think that's going to get my vote, you're as dumb as the people making these political ads."
"This is an effort to frame the election in the context of the last six years. Women deserve more than to be reduced single-issue voters. AFSP's new ads highlight the issues that women really care about and that will bring them to the polls this November." – John Jordan, head of Americans for Shared Prosperity, in a statement to Fox News First.
The spots are from Rick Wilson, the Florida-based GOP ad maker who made the most controversial ad of the 2002 midterms, and is a relentless advocate for Republican reinvention. Republicans tried something similar with a "breakup" spot in 2012 but the messages were jokey and not nearly as stark.
[Flashback – If you never read the National Journal profile on multimillionaire vintner Jordan, you are missing out.]
FROTHY VOTER OUTREACH
She says she lives with her parents and she helped LSU bros do a keg stand over the weekend. Maybe Sen. Mary Landrieu is just trying to get out the millennial vote?
POWER PLAY: OBAMALAND UPSET?
How can GOP candidate Jim Oberweis only be trailing the Senate's second-highest ranking Democrat, Dick Durbin, by single digits in Illinois? With rare candor, Oberweis admits he began the race as a sacrificial lamb, but now thinks victory could be his. Watch.
BOB DOLE IS NOT AMUSED BY EFFORT TO CO-OPT HIS LEGACY IN KANSAS
Kansas independent Senate candidate Greg Orman tells voters he left the Republican Party because current members, like the man he is trying to unseat, Sen. Pat Roberts, abandoned the values of former Sen. Bob Dole. Orman probably should have checked with Dole before he adopted that campaign strategy. Dole, who remains hugely popular in Kansas at age 91, hits the campaign trail with Roberts today and tomorrow. In an interview with ABC News, Dole, still a fan of the second-person self-reference said: "Someone said to me that Orman said he wanted to be a politician like Bob Dole. I'm Bob Dole, and I can tell you that Greg Orman is not Bob Dole."
[Sen. John McCain, R-Ariz., will be on the stump with Roberts on Wednesday and Thursday.]
PICK SIX: ALASKA MAKES BIG GAINS, BUT STILL FROZEN OUT
A surge of reader votes following Friday's Pick Six-apalooza pushed Alaska almost into the top tier, but strong showings for perennial Pick Six favorites have so far kept the Senate contest in the 49th state on the bubble. The goal in Pick Six is to choose the six states that present the most direct path to a change in control of the Senate. And while Alaska increased its vote share, it fell just short of sixth-place North Carolina. But the voting continues. Reader Paul Koepping thinks "Obama will sink" incumbent Democrat Sen. Mark Begich in the Frontier State and that Republican nominee Dan Sullivan will be able to close the deal.
The other big mover was Iowa, where Republican state Sen. Joni Ernst is vying with Democrat Rep. Bruce Braley for a seat being vacated by retiring Sen. Tom Harkin, D-Iowa. Reader Jack Lawhorn is picking the Hawkeye State over North Carolina, which hold the number six spot in the top tier of vulnerable seats. "Not much movement in NC: The candidates seem to be–well, sort of just looking at each other. In Iowa, Joni Ernst is, by contrast, an active, articulate, attractive lady, whose knowledge of and connection with the military are important at a time when military matters and foreign affairs are so important to the nation."
With just over 6 weeks left to the midterms the consensus among Fox News First readers: Arkansas (13.7%), Montana (12.9%), West Virginia (12%), Louisiana (11.8%), South Dakota (10%) and North Carolina (9.1%). We appreciate the response and encourage readers to…
Share your top six picks. Email them – just your top six, please – to FOXNEWSFIRST@FOXNEWS.COM or tweet @cstirewalt.
CONTRACT WITH AMERICA ANNIVERSARY
It was 20 years ago this week on the steps of the Capitol that Republican House members joined together to sign the Contract with America. Just six weeks before the election, the document proved pivotal, giving Republican House candidates and incumbents a solid brand heading into the midterm vote that would hand the party control of the House for the first time in 40 years. The Ripon Forum analyzes the evolution of its message and the Republican model that continues today. Authors include former GOP Deputy Whip Bob Walker, Republican strategist David Winston and veteran congressional and presidential advisor Barry Jackson. Also included in this edition is a profile of Indiana Gov. Mike Pence, who believes that the GOP needs to be 'solutions conservatives' this fall.
OFFICER IN HEAD-ON COLLISION WITH CLICHÉ
Apparently taking drive-thru service to a different level, the old cliché of police officers and doughnuts came to a screeching halt in one New Jersey town when a cop crashed his SUV straight into a Dunkin' Donuts shop. According to the [New Jersey] Courier Post, the officer first crashed into another car before winding up in the donut shop. 84-year-old Delores Haines was trying to make a left turn from a bank parking lot when she was hit. She was startled by the accident but was not injured, though she plans on having some words with the officer, saying, "I'm not hurt. [The officer's] down there at the hospital, something with his knee, but he's going to get a lot more when he hears from me."
Chris Stirewalt is digital politics editor for Fox News.  Want FOX News First in your inbox every day? Sign up here.
Chris Stirewalt joined Fox News Channel (FNC) in July of 2010 and serves as digital politics editor based in Washington, D.C.  Additionally, he authors the daily "Fox News First" political news note and hosts "Power Play," a feature video series, on FoxNews.com. Stirewalt makes frequent appearances on the network, including "The Kelly File," "Special Report with Bret Baier," and "Fox News Sunday with Chris Wallace."  He also provides expert political analysis for Fox News coverage of state, congressional and presidential elections.
Source Article from http://feeds.foxnews.com/~r/foxnews/politics/~3/P0F_I3vIkUQ/
Bubba, Panetta dump on Obama's Syria policy
http://feeds.foxnews.com/~r/foxnews/politics/~3/P0F_I3vIkUQ/
http://feeds.foxnews.com/foxnews/politics
FOX News
FOXNews.com – Breaking news and video. Latest Current News: U.S., World, Entertainment, Health, Business, Technology, Politics, Sports.
http://tools.foxnews.com/sites/tools.foxnews.com/files/images/fox-news-logo.png