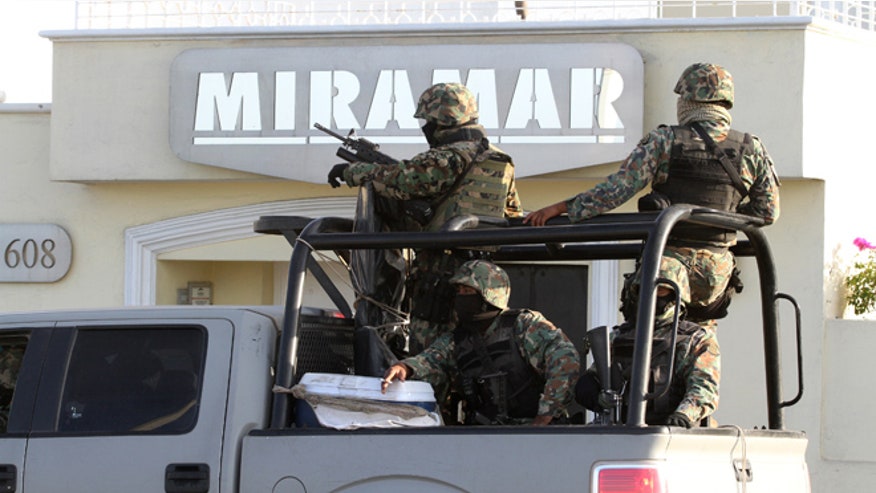 Individuals in Mexican military uniforms drew their guns on a U.S. border agent earlier this year after having crossed the southwestern border into Arizona, a U.S. senator claimed, raising concerns once again that Mexican officials are illegally crossing into the U.S. and, worse, potentially aiding the drug cartels. 
The incident described by Sen. Tom Coburn, R-Okla., would appear to be one of dozens over the past decade where Mexican military and law enforcement officers have crossed into U.S. territory. Most are presumed to be accidental, but they also raise the possibility that Mexican military members — or individuals posing as them — are helping drug cartels. 
"This incident is of concern," Coburn wrote in a letter to U.S. Customs and Border Protection's former acting commissioner, asking whether CBP has concerns that Mexican military members are "providing security and/or intelligence to Drug Trafficking Organizations." 
In the January letter, obtained by Fox News, Coburn detailed a Jan. 26 incident along the normally quiet Sasabe outpost in Arizona. 
The encounter played out as follows, according to the letter: 
A Border Patrol agent went to the scene after two individuals were spotted crossing the U.S. border. The agent found them 50 yards north of the border and "positively identified two subjects looking like Mexican Military." They were wearing tan camouflage and traveling on foot. 
When the agent made contact, both the agent and the two individuals drew their weapons — they were carrying "G3, 7.62 caliber battle rifles." 
When the U.S. agent identified himself, and the two individuals identified themselves as part of the Mexican military's 80th Battalion, the situation "apparently cooled off." 
The two explained to the U.S. agent that they were pursuing three subjects in the area. Yet the U.S. agent noticed that the names they gave "did not match the name-tapes on their military uniforms." The individuals returned to Mexico after more CBP personnel made their way to the scene. 
Coburn asked CBP a string of questions about the incident, including whether other U.S. agencies were informed and how often this kind of incursion happens. 
Past reports and testimony indicate this is far from the first time Mexican personnel have crossed the U.S. border without prior permission. 
The conservative watchdog group Judicial Watch claimed in 2008 that it had obtained documents showing 29 incursions by Mexican agents and officials in fiscal 2006. 
The group also reported that Department of Homeland Security records showed more than 200 such incidents between 1996 and 2005. 
The Washington Times in 2008 reported on another incident where a U.S. Border Patrol agent was held at gunpoint by apparent members of the Mexican military after they crossed the U.S. border. As with the incident Coburn described, the soldiers returned to Mexico after other agents arrived. 
According to BuzzFeed, which first reported on the Coburn letter, the incident report shows that U.S. officers tried to contact their counterparts in Mexico about the encounter, and a "voice message was left." 
It's unclear, as Coburn noted in his letter, whether the incident has been resolved. A spokesman said CBP has not yet responded to Coburn's questions, though he set a Feb. 3 deadline in his letter. 
A new commissioner, Gil Kerlikowske, took command of the agency last week. 
Fox News' Kara Rowland contributed to this report.
Source Article from http://feeds.foxnews.com/~r/foxnews/politics/~3/Wam_mfpRHsg/
Cartel connection? Senator presses agency on 'Mexican military' incursion into US
http://feeds.foxnews.com/~r/foxnews/politics/~3/Wam_mfpRHsg/
http://feeds.foxnews.com/foxnews/politics
FOXNews.com
FOX News Network – We Report. You Decide.